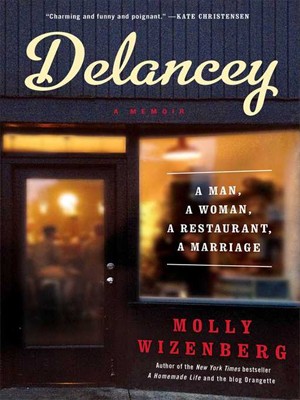 Delancey: A Man, a Woman, a Restaurant, a Marriage
by Molly Wizenberg
Age:
Adult
Category: Contemporary
Rating: 3 stars
Marta Thinks:
In her deliciously fun and earnest memoir,
Delancey
, Molly Wizenberg talks about the creation of her husband's pizza restaurant and how the process of opening it was anything but easy. The format is fairly simple and straight-forward (chronological chapters, photographs, recipes); there's nothing ground-breaking about it but perhaps that's what makes it so appealing. The book gives a sense of warmth and comfort, the sort of atmosphere you'd expect from a cosy pizza-place. And it helps that Wizenberg's voice shines through her book, frank and introspective, charismatic enough that you want to keep on reading. All night. (Yes, I speak from personal experience.)
I loved reading about the small details the most, most probably the part where the search for a name is not at all easy: from
Avenue Q
to Midwood, nothing seems to work, until Brandon, Wizenberg's husband, sees the Delancey Street subway station sign. Thus the christening of Delancey. The connotations held with such a name are described gorgeously and are a testament to Wizenberg's writing abilities: "It felt classy and old-fashioned, like a pub lined with dark gleaming wood and frequented by old men with tweed suits and cigars." If Brandon cooks as beautifully as Wizenberg writes, then the food must be very savoury indeed.
However, while the uncomplicated presentation does bring some advantages, it poses the disadvantage of lacking an innovative style which might have given the book a higher quality rating. If you're looking for something out-of-the-world, something that will give you a lasting, inspiring impact, then this isn't the book for you. But if you want a sweet, comfortable read that will leave you a warm feeling, here's a winner.